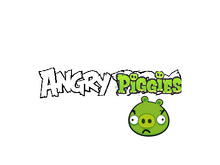 Angry Piggies is a game launched on January 27 2014. This game makes pigs launch as birds! There are 3 pigs and 21 levels. The first one being the minion pig and the second being the Fat pig. The strongest one. The third one is the egg big, makes explosions. Golden eggs are good for pigs aw yeah, I liked it!
Plot
King Pig gets mad at the Angry Birds when he tries to steel the eggs. So the pigs used their slingshot.
Ad blocker interference detected!
Wikia is a free-to-use site that makes money from advertising. We have a modified experience for viewers using ad blockers

Wikia is not accessible if you've made further modifications. Remove the custom ad blocker rule(s) and the page will load as expected.